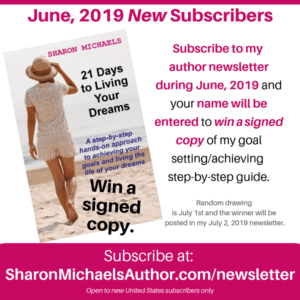 This newsletter is spam-free and I will never share your information. I dislike spam as much as you do.
Subscribing to my Author Newsletter during June, 2019 means your name will be entered to win a copy of my goal setting/achieving paperback, 21 Days to Living Your Dreams.
A random drawing will be held July 1, 2019 and the winner will be posted in my July 2, 2019 newsletter.
Thank you for subscribing and good luck!

© Copyright 2018-2019 SharonMichaels.com – All Rights Reserved
To see all the fiction and non-fiction books I currently have available,
here is a link to my Amazon.com Author Page:
Sharon Michaels Amazon.com Author page