October Writing Challenge
The beginning of every month I post a Writing Challenge / Prompt on my Sharon Michaels Author Facebook Page https://www.facebook.com/sharonmichaelsauthor/
I took the October 2017 Challenge and here's my post.
For as long as I can remember I've wanted to write fiction. I'm not trained to write fiction. In fact, when I wrote stories in school all the bright red correction marks covering my words dampened my enthusiasm and chipped away at my self-confidence.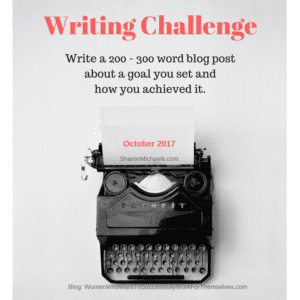 I love to read and read several romance and cozy mystery books a week. With every fiction book I devoured, I wished I could put my words down on paper as well and eloquently as that author had. With some books, I honestly thought I could have written them better myself.
In 1997 I published my first nonfiction book. How to Give Yourself the POWER to Succeed is still available today as a paperback and Kindle. It felt great to be a published author. In fact I've written and published ten additional nonfiction books.
There still was that longing – that wish – that hope – that dream – to write fiction. In 2015 I decided to bite the bullet and take an online course. I wrote 10,000 words in six weeks. It was difficult and exhilarating all at the same time. I wrote the beginnings of a romance novel. The instructor loved my characters, thought my book was marketable and encouraged me to finish it. As of today, it is sitting on the top shelf in my closet in a bright red binder. Why? I'm pretty sure it is fear of rejection.
During the first part of 2016 I wrote another romance novel and actually finished it. It too is sitting on my closet shelf right next to the one in the red binder.
Then, toward the end of 2016 I woke up one morning with a fun idea to write about our beloved mini-dachshund Oscar. I wanted to honor that sweet little guy who had crossed over the rainbow bridge a few years earlier. It was a scenario that kept rolling around in my mind about how Oscar solved crimes with the help of his neighborhood canine friends.
I sat down that very day and started writing. I saw the scenes play out in my head. I heard the dogs and humans talking. I added little insights into the life of Oscar the Doxie Detective from our real life experiences with our own Oscar. The story was fun to write. I paced myself to write at least five hundred words a day five days a week. I wanted it to be a quick read Kindle – somewhere around 10,000 – 15,000 words.
I published The Prickly Pear Murder as a Kindle January 2017. Within a couple of days of publication, my first fiction book started receiving five star reviews. During 2017 I published two more in the Oscar cozy mystery series. I love writing them. I get lost in my Happy Hills community and living in the Canine Detective Club world.
My original life-long goal to write fiction and publish it – accomplished! In fact there will be a fourth book in the Oscar the Doxie Detective series coming out the first part of 2018.
So with all that said, here is my new awesome goal for 2018:
Finish the two romance novels sitting on the closet shelf and publish them during 2018. I can do this. I'll keep you posted.
Please leave us your comments.





Sharon Michaels
Author, blogger and success teacher


© Copyright 2017 SharonMichaels.com – All Rights Reserved


I invite you to stop by and check out my Author page on Amazon.com – learn more about all my Amazon books Sharon Michaels Amazon.com Author page