Book 4 in the Hat with Nine Lives series is now available!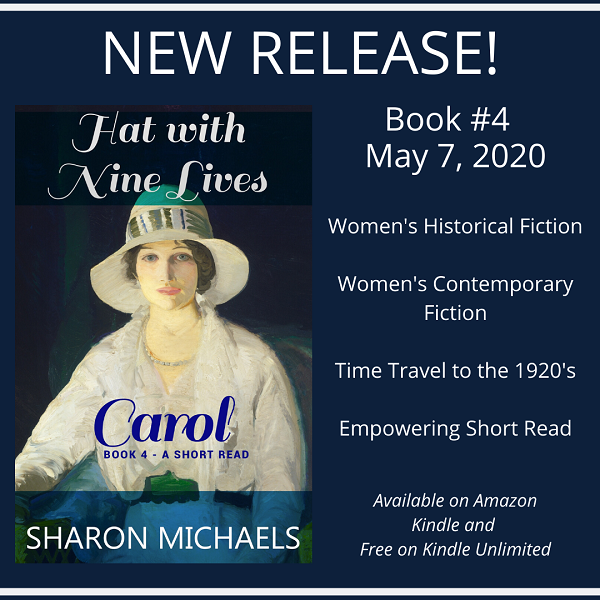 How will Hope and Carol keep going forward without doubting themselves or compromising their principles?
Living and working in the same small town as her ambitious ex-husband has our storyteller and time traveler Hope McConnell fighting to establish her professional credibility. Hope must work daily to be taken seriously as an attorney and push back against the "good old boys" club. The men in her hometown seem to be rallying around an outsider instead of the person who has deep roots within the community.
Living in New York City during the 1920's is not always as appealing as it may seem. For an educated woman with aspirations to become a successful and respected actress and Broadway star, Carol Harris realizes it is going to take more than sheer talent and will power to reach her goals. The key to success may hinge on not falling prey to the "casting couch" or giving into the dazzling excesses of the Roaring '20's.
The scenarios may be from different centuries, but the struggles for Hope and Carol are identical. Two strong females, striving to overcome the roadblocks that could potentially keep them from succeeding in their chosen careers. Nannette LaPointe's beautiful creation plays a key role in both their lives.
In Book 4, Hope's time traveling dreams take her to meet the fourth owner of her
beautiful antique hat. Here she experiences the Roaring '20's through the eyes of Carol Harris.
Here's a link to grab your Kindle/Kindle Unlimited copy today:
https://www.amazon.com/dp/B08815DBMH
*****
Hat with Nine Lives
As the title suggests, this is a series of nine short read books. Each book shares the story of empowered women who faced challenges and overcame them with inner strength and courage. Each book is a standalone read, although it is more fun if you read them in order.
Hope McConnell is our storyteller and she'll be appearing in each book as your guide. This is her story – her journey – her journal.
Yes each story can be read as a standalone, but you'll want to read all nine to find out how Hope navigates traveling back in time to experience firsthand the fascinating stories her antique hat has to share.
This short read series is not only about the strong women whose stories we'll be witnessing, but also about how women made a difference in our society during the past one hundred plus years. We'll explore earning the right to vote, becoming successful entrepreneurs, growing into stronger women through hardship, tenacity and hard work, breaking the gender barriers in male dominated professions, raising families during tough times, etc.
This is a work of fiction, with threads of history woven through each chapter. I've worked to make the history I share as authentic as possible, but there will be situations where as an author, I've taken some liberties and used my imagination. Please enjoy.
Book One – Hope – Today in small town Nebraska
Book Two – Sarah – 1901 – San Francisco
Book Three – Faith – 1914 – Salem Massachusetts
Book Four – Carol – 1920's – New York
Book Five – Roxie – 1930's – Detroit
Book Six – Julia – 1940's – Chicago
Book Seven – Heidi – 1950's – Rural Colorado
Book Eight – Susan – 1970's – Phoenix
Book Nine – Joyce – Today in small town Nebraska

**Even if you don't have a Kindle, Amazon has a free app for your mobile device and/or computer. You can start reading Kindle books on your smartphone, tablet, or computer – no Kindle device required.
Please tell your friends and reviews are always appreciated – thank you!



Copyright © 2020 – SharonMichaels.com – All Rights Reserved