Excited to share that my short read Hat with Nine Lives: Faith Book 3 is now available on Kindle and free on Kindle Unlimited!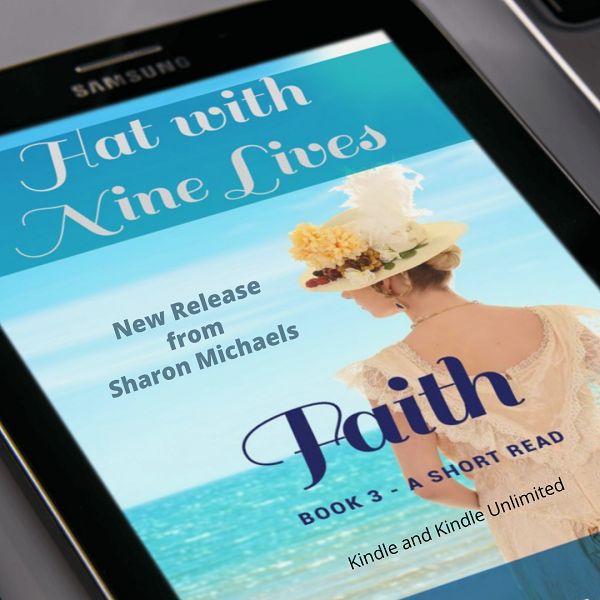 People come into your life for a reason. Some stay, some leave and some change your life forever.
Faith Coffey traveled to the United States to marry the man of her dreams. Her life though did not turn out quite the way she planned. In a new country and knowing no one, she must search to find her place, her passion and her courage to keep believing in the future.
Our time traveling modern day storyteller Hope McConnell is about to open the Crystal Falls Legal Aid Clinic when self-doubt takes hold. This is a turning point in her life and her career. For Hope, the Nannette LaPointe antique hat always seems to know just the right lesson she needs to learn about herself.
Here's your link to grab your Kindle/Kindle Unlimited copy of Hat with Nine Lives: Faith
https://www.amazon.com/dp/B085X6JZ5Y
**Even if you don't have a Kindle, Amazon has a free app for your mobile device and/or computer. You can start reading Kindle books on your smartphone, tablet, or computer – no Kindle device required.
Reviews are always appreciated – thank you!
Upcoming books in the Hat with Nine Lives series:
Book One – Hope – Today in small town Nebraska
Book Two – Sarah – 1901 – San Francisco
Book Three – Faith – 1914 – Salem Massachusetts
Book Four – Carol – 1920's – New York
Book Five – Roxie – 1930's – Detroit
Book Six – Julia – 1940's – Chicago
Book Seven – Heidi – 1950's – Rural Colorado
Book Eight – Susan – 1970's – Phoenix
Book Nine – Joyce – Today in small town Nebraska

Here's the link to sign up for my Reader's Newsletter:
https://mailchi.mp/12df11f6026e/sharonsnewslettersignup



Copyright © 2020 – SharonMichaels.com – All Rights Reserved