Book 3 in the Snowy Cozy Romance short read series…
My Heart Remembers – The heart always remembers what is truly important – love, family and happy endings.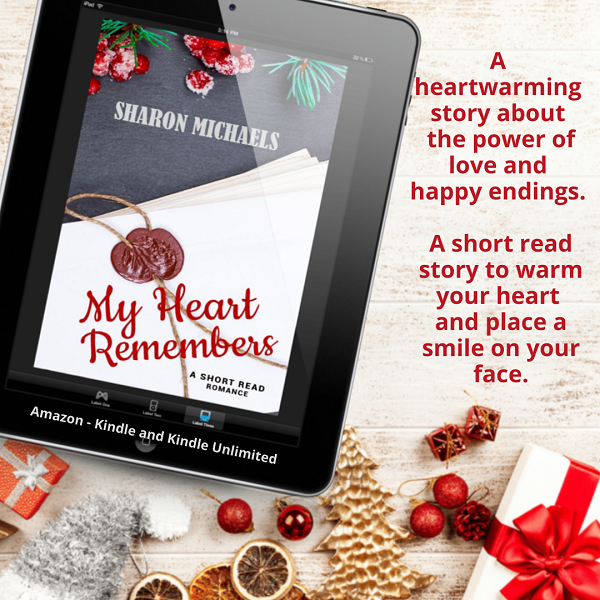 No matter the decades that pass, the love of family never dies. The joy of loving and being loved are the memories that stay in our hearts forever.
Nurse Melodie Briggs and Dr. Ryan Graff befriend an elderly patient with memory loss. This sweet woman sits alone in her room staring out the window, no one visits or calls. As they help her remember the memories locked tightly in her heart, they find a personal connection none of them could have imagined.
A heartwarming story about the power of love and happy endings. A short read story to warm your heart and place a smile on your face.
Spoiler: You may want to keep a tissue handy for wiping away tears of happiness as you read the ending.
*****
Grab your favorite beverage, sit back and spend an hour or so enjoying a sweet romance short story you can share with your grandmother and not blush with embarrassment.
Sweet clean and wholesome stories to warm your heart on a chilly day. Each can be read alone, but it is much more fun if you read them in order.
*****

Download your copy of My Heart Remembers here:
https://www.amazon.com/dp/B082RGKBVF
The Snowy Cozy Romance Series
Snowed in with My Ex – Book 1
Three Makes a Family – Book 2
My Heart Remembers – Book 3
New Year, New Love – Book 4
**Even if you don't have a Kindle, Amazon has a free app for your mobile device and/or computer. You can start reading Kindle books on your smartphone, tablet, or computer – no Kindle device required.
Reviews are always appreciated – thank you!



Copyright © 2019 – SharonMichaels.com – All Rights Reserved