I'm often asked how I come up with ideas for my books and short stories. Here's a behind the scenes look at A Collection of Fun Short Reads From Oscar the Doxie Detective and his canine friends.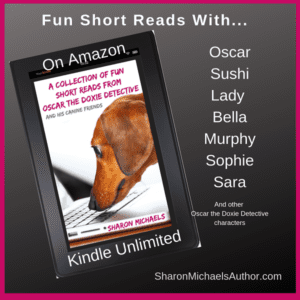 When I began writing the four books in an Oscar the Doxie Detective cozy mystery series, I wrote little biographies for the main and secondary characters. As I grew to know each character better, little stories about their lives began percolating in my imagination. That's how the ten fun stories in this collection came to be. Each story is written through the eyes of that character.
You'll want to download your copy of this fun short reads collection featuring the canine and human characters you've gotten to know so well from the Oscar the Doxie Detective series.
Download your Kindle and/or free Kindle Unlimited copy here: Fun Short Reads From Oscar the Doxie Detective:and his canine friends



Copyright © 2019 – SharonMichaels.com – All Rights Reserved