Starting Wednesday June 19 – Sunday June 23, 2019 my Kindle short story Mending Broken Hearts is FREE on Amazon.com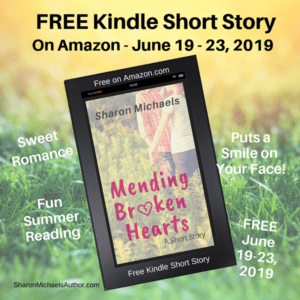 Here's the link: Mending Broken Hearts
You can go to Amazon any one of those 5 days and download your complimentary copy. And yes, please tell your friends that they too can enjoy a complimentary copy.
Mending broken hearts takes time. Even with time, there are no guarantees a heart will ever be truly healed.
Edmond: Driven to prove himself worthy of success and power – even if it costs him the love of his life. Alicia: Her life has been planned since birth. She must follow in the footsteps of her famous family – even if it means sacrificing her own happiness.
When two well planned lives from two different worlds fall in love, common sense goes out the window. Some people may call it serendipitous, Alicia calls it a big mistake.
After waiting years for a second chance, Edmond knows it's not going to be easy to win back Alicia's trust, respect and hopefully her love. He is determined to prove he's changed, no matter how long it takes.
A quick read short story.
Here's the link: Mending Broken Hearts
P.S. If you like what you've read, please take a minute to write a review. I thank you in advance!
Here is a link to my Amazon Author Page:
Sharon Michaels Author Page on Amazon



Copyright © 2019 – SharonMichaels.com – All Rights Reserved