Once upon a time…
That's how I should begin my life story. My story is so extraordinary that sometimes even I can't believe it really happened. I am a Christmas tree. I come from a long line of Blue Spruces. Mama called me Baby Blue for most of my life. My father, who was a towering twenty foot evergreen and ruler of the clan, simply called me son.
I remember the day, I guess I was about ten years old, when a team of men and women came with trucks and saws to our part of the forest. They searched for hours before they picked my father as the perfect tree to grace the Blue Room of White House as America's Christmas tree. The family was so proud that we were actually dropping our pine cones with excitement. Every Blue Spruce dreams of growing up and being given such a distinguished honor.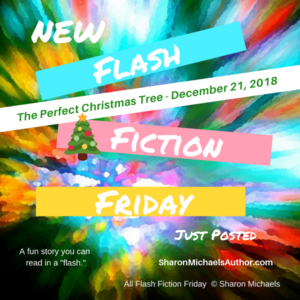 As the years passed, the evergreens around me kept growing taller and taller and fuller and fuller. For some reason, I seemed to stay the same. I was shorter and scrawnier than my brothers and sisters. My mother told me not to worry. "Not everyone has room for a big Christmas tree," she'd lovingly say patting my top branches.
I know her words were supposed to be encouraging, but I felt like I was letting my clan down. I began to doubt my purpose in life. What if I no one ever picked me to be their Christmas tree, what would I do?
About seven years after dad went to the White House, some workers dressed like Santa's elves drove large trucks in to our forest. This time they started cutting all the Blue Spruces that would become the Christmas trees in living rooms and buildings around the country. It was an exciting day – the day we were born for. I stood in my spot and waited to be cut. Instead, I waved good bye to my brothers and sisters, aunts and uncles and cousins. I cried a little when my mother touched my branches for the last time. "I love you Baby Blue," she choked back tears as she was driven away with the other Spruces.
I waited for the truck to return. I figured the truck must have been too full to load me too. The truck never came back.
I looked around and could see fallen branches and drying up pine cones on the ground. For as far as I could see, there was empty space. For the first time ever I could see from one end of the forest to the other. All the Blue Spruces were gone, except for me. I was alone – standing in the middle of the forest by myself.
I tried to be brave. I tried not to cry. I tried to be positive and optimistic like mom taught me. When the squirrels, mice and deer came to the field and started sniffing around, I stood as tall as I could. I wanted them to know I was a proud and mighty Blue Spruce. Some of them pointed at me and laughed. One group of rude squirrels gathered in my branches and sneered, "You must be a real loser if they took all the other trees and left you." I stood as tall as I could and I didn't let them see my hurt.
After days of being taunted by the animals, my branches began to droop. I shivered when it started to snow. I missed having my family around me for warmth, comfort and encouragement. I have to admit, I was giving up hope of ever being someone's Christmas tree. Maybe I really was a loser like they said.
Then it happened! I remember every detail. The sky had been gloomy with gray clouds bursting with heavy wet snow. I bet there was at least ten or twelve inches of the white stuff on the ground all around me. Only the top half of my branches were peeking out by the time the last rays of light melted into the darkness. As cold and lonely as I felt, I was pretty sure I wouldn't last until the spring thaw.
About midnight, I heard jingle bells in the distance. I was confused. Why would there be bells in the middle of the forest so late at night? Then, the full moon peeked out from behind the clouds and I saw them – there were reindeer up in the sky heading my way. At first I thought I must be dreaming. Then the huge sleigh led by a reindeer with a shiny red nose kept coming closer and closer until it stopped right in front of me.
"Ho, ho, ho," Santa Claus laughed, "I've found the perfect tree for my sleigh this Christmas eve."
What! Could this really be happening?
"Well little Baby Blue," Santa said, getting out of the sleigh and shaking the snow off my branches, "are you ready to visit all the boys and girls and help me deliver presents?"
"Yes sir!" I shouted in my most confident voice.
With a wave of his hand, Santa had my branches shinning in bright red and green lights. Beautiful tinsel and garland adorned me from top to bottom. I was now Santa's Christmas tree.
The reindeer, Santa Claus and I traveled the world that night. I was bringing joy and happiness to so many people all over the world. I even got to wave at my mother and relatives as we stopped by the houses where they too were beautifully decorated for the holidays. My mother beamed with pride.
Today I live permanently at the North Pole with Mr. and Mrs. Claus. I guess I must be the happiest Blue Spruce on earth!
Moral of the story: Believe in yourself and never give up hope that your life has value, meaning and purpose. Trust that you have the power to make a positive difference in the lives of others.







Copyright © 2018 – SharonMichaels.com – All Rights Reserved
This is a work of fiction.
None of it is real. All names, characters, businesses, places, events and incidents are either the products of the author's imagination or used in a fictitious manner. Any resemblance to actual persons, living or dead, or actual events is purely coincidental.
I invite you to stop by and check out my Author page on Amazon.com – learn more about all my Amazon books Sharon Michaels Amazon.com Author page

Here is a link to all the Flash Fiction Friday stories. A new Flash Fiction story is published the third Friday of each month.