Hi, I'm Lady a King Charles Cavalier Spaniel living in Happy Hills Arizona and I love dancing. Yes, I'm a d-o-g. The problem is, as a dog I don't have many opportunities to dance. Honestly, I could dance all day and all night and not get tired. I am a born dancer!
Let me start at the beginning so you'll understand why I am so passionate about dancing. Three years ago my human Cynthia rescued me from an overcrowded animal shelter. I spent long days staring at the paint peeling off the walls and looking through the rusty metal bars. I found myself constantly shaking in fear. My coat was matted and tangled. I was all skin and bones. I'd been neglected and unloved for a very long time.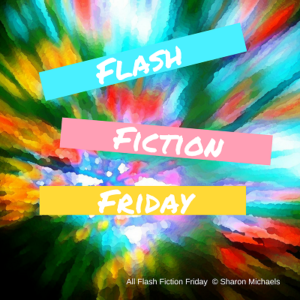 Families would walk up to me shaking their heads. They'd actually laugh in my face and keep moving on. I wanted to hide in the corner and never come out. Then one Thursday morning Cynthia stopped by my cage and asked to meet me. To make a long story short, we've been together ever since. I love my Cynthia and every day I make sure to go out of my way to show my love and appreciation.
With all that said, I don't feel like a dog. I feel like a human trapped in a King Charles Cavalier Spaniel's body. The thing is, I have more memories of being human than I have of being a dog. Sounds crazy doesn't it?
I remember as if it was yesterday dancing in Las Vegas in one of the finest showrooms on the Strip. Back in the day I was a statuesque five foot eleven inches tall, with silky long blonde hair and striking blue eyes. I was a Vegas showgirl. I had my own apartment and I made good money. Lately, there've been days I sit and pout because I miss being the star of the most popular show in Las Vegas. All and all I had a really good human life.
Don't get me wrong I'm not complaining, but life as a dog has been an adjustment. I love dancing more than running after a stupid stick or chasing a smelly ground squirrel. Cynthia tells me when I'm asleep I move my legs and look like I'm dancing. She's right. In my dog dreams, I'm in my human body dancing to the applause of my adoring fans.
I love when Cynthia puts on her rock and roll music and we dance around the living room. I believe I've even taught her a few new dance moves. We also belong to the Happy Hills Line Dancing Club. I go to every class at the clubhouse and stand on the sideline moving right along with the rest of the dancers. A couple of times I've run to the center of the room and showed them how I danced in Vegas. Everyone applauded and I think I blushed. It felt wonderful to perform. I don't want to sound conceited, but I bet I could teach that dance class and show all of them a few sexy moves.
Well, here's something I'd like you to think about…
Does your dog try to tell you about their human life?
Do they move and whimper in their sleep?
Do they sing when you're singing?
Do they dance when you're dancing?
Do they try to communicate with special looks or sounds?
Take it from me, don't discount your pet's actions. They're most likely trying to share something special with you.
If I have a regret, it's that I wish I could speak human. If I spoke human, I'd share my special Las Vegas memories with Cynthia. I know she'd enjoy hearing all my showgirl stories.



© Copyright 2018 SharonMichaels.com – All Rights Reserved


This is a work of fiction.
None of it is real. All names, characters, businesses, places, events and incidents are either the products of the author's imagination or used in a fictitious manner. Any resemblance to actual persons, living or dead, or actual events is purely coincidental.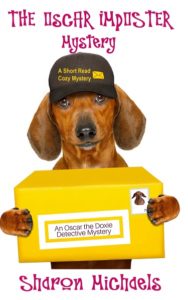 Here's a link to the Paperback Book 4 –
The Oscar Imposter Mystery in Paperback
Here's a link to the Kindle Book 4 –
The Oscar Imposter Mystery on Kindle

I invite you to stop by and check out all the books in An Oscar the Doxie Detective Mystery Series An Oscar the Doxie Detective Series