As a dog I have a pampered life living in Happy Hills Arizona. My human Fred calls me his little princess. The story goes that Fred was picking up sushi for lunch at the local grocery store when he saw me sitting on the sidewalk tied to a shopping cart. I had my dish and a squeaky toy next to me. There was a note taped to the dish that read: This Shih Tzu is now homeless. Fred picked me up and took me home. That's how I got my name Sushi. I didn't have a collar or tag and I wasn't microchipped. We never did find who left me at the store. I don't remember much of my dog life before I started living with Fred. All I know is that my life is wonderful and Fred is my forever human.
My friends in the Detective Club and I solve mysteries here in Happy Hills. In fact, we're considered quite the local celebrities. I have to be honest with you, this isn't the first time I've been a celebrity. In my human life, before I ended up in the body of a twelve pound Shih Tzu, I was a world famous swim suit model. Really, I'm not kidding you. I was on the cover of a famous sports magazine several times and voted the most beautiful woman in the world two years in a row.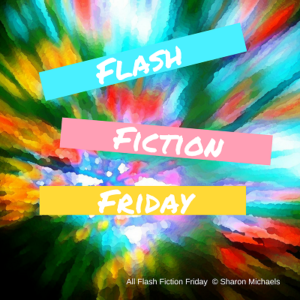 I've been having flashbacks to my human life. Sometimes I feel like I'm caught between two worlds – the past and the present. I think part of remembering the past is about making peace with how my human life ended.
Sure, I was a beautiful woman. I can thank my mother and father for my high cheekbones, blue eyes and long graceful legs. You know what I quickly realized? Beauty is only skin deep and it doesn't last forever. Sounds like I'm negative, doesn't it? Well, I am.
Toward the end of my human life I was treated more like a piece of merchandise than a person. I was a paycheck for so many people, that most of them lost sight of me as a human being. I don't want you to jump ahead and think I took my own life, I didn't. I do though think I may have worked myself to death. That's probably why I'm so laid back and mellow in my new dog life. I've learned that there's more to life than fame, fortune and fabulous hair.
Let me start at the beginning. Growing up in a tiny Midwest farming town surrounded by corn and cows I dreamt of being a beauty queen. Not just any beauty queen mind you, I set my sights on becoming Miss Universe. I trained day in and day out. I learned to walk, talk and look like a beauty queen.
No, I didn't become Miss Universe. I did though become one of the richest women in the world. I was young, gorgeous, wealthy and famous! I couldn't go anywhere without the paparazzi following me. I was on the cover every popular magazine in the world. I dated movie stars, billionaires and Wall Street moguls. I was living my dream life. Or so I thought.
In my early thirties I learned quickly there was a price to pay for my lifestyle, and I paid it.
I was obsessed with my weight, my clothes, my hair, my makeup and my press coverage. I ate next to nothing and by the time I was twenty-five I'd had so much plastic surgery my own mother could hardly recognize me. I was young and foolish and I didn't care. Life was one party and one photo shoot after another. Then one day it all came crashing down around me.
When I was thirty-one I found a sore spot and bruise on my spine, but I decided to ignore it. Then, six months later I couldn't move. I was paralyzed. The diagnosis was cancer. I started treatment immediately. I lost my hair and my looks faded. My famous friends ignored my calls. My agent went on to her next upcoming meal ticket and dropped me as a client. The public forget about me. I was a washed up has been.
I moved back to the tiny Midwest farming town and my family nursed and cared for me. A year later to the day of my diagnosis I was buried in the small family cemetery on my grandparent's farm. I know, it's probably not the happy ending you were expecting – me either. Life sometimes throws you curve balls. It's what you do with the curve balls that count.
I decided to leave my wealth to my family and to the local children's hospital. The hospital now has an entire wing devoted to caring for children with life threatening illnesses.
My human Fred has given me a fantastic life here in Arizona. I'm a pampered and loved dog. There's a special fellow in my life named Oscar who is a funny, smart and caring mini-dachshund. I also have great friends and together we help our community stay safe. My dog life is full of simple pleasures for which I'm extremely grateful.
I am grateful for you too. Thank you for reading my story and I invite you to read more about my Happy Hills friends and our adventures in the Oscar the Doxie Detective mystery series.



© Copyright 2018 SharonMichaels.com – All Rights Reserved


This is a work of fiction.
None of it is real. All names, characters, businesses, places, events and incidents are either the products of the author's imagination or used in a fictitious manner. Any resemblance to actual persons, living or dead, or actual events is purely coincidental.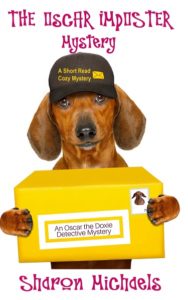 Here's a link to the Paperback Book 4 –
The Oscar Imposter Mystery in Paperback
Here's a link to the Kindle Book 4 –
The Oscar Imposter Mystery on Kindle

I invite you to stop by and check out all the books in An Oscar the Doxie Detective Mystery Series An Oscar the Doxie Detective Series