Thoughts Behind The Oscar Imposter Mystery –
Book 4 in an Oscar the Doxie Detective Mystery
I'll just come right out and say it – this is my favorite book in the Oscar the Doxie Detective four book mystery series. This is also going to be the last book in this cozy mystery series. With The Oscar Imposter Mystery, my gut feeling is that I won't be able to "top" this one.
I wanted to share why book four – The Oscar Imposter Mystery – is so dear to my heart…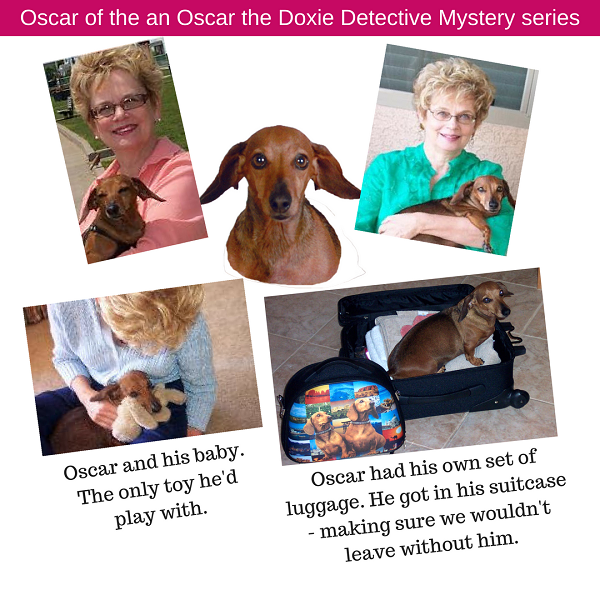 Our Oscar was a very special dachshund in so many ways. Writing this series I wanted to honor his memory with dignity and respect. I wanted to express to you, the reader, his unique personality quirks, his love for us and our love for him, and his never give up attitude. Our Oscar was interviewed for the local newspaper and appeared in national magazine articles. In real life he actually was a canine celebrity. Not because he was a prize winning show dog, but because he was a fighter – a survivor.
My husband and I fell in love with Oscar when we saw his picture on a dachshund rescue website. He looked scared but tough. He looked confused but determined. He looked like he'd fit perfectly into our family.
When we drove to meet him, he ignored me (in fact he growled at me) and went straight for my husband. Oscar rolled over on his back and wanted my husband to rub his belly. Needless to say, Oscar came home with us that afternoon.
Here's what we knew about his background:
He was wandering in the Southwest United States desert during the brutal heat and monsoonal rains of the month of August. Animal control took him to the pound.
He was found with three female dachshunds. All four dogs were in rough physical condition. One of the females did not survive.
The speculation at the time was they were "throw-aways" from a puppy mill. The puppy mill had no more use for them so they dumped all four in the desert. Probably hoping they wouldn't survive the heat or the coyotes.
When he was found, Oscar weighed less than six pounds and was malnourished and dehydrated. He was all skin and bones.
Our veterinarian thought he was about six years old and was used as a stud for breeding. His back teeth were worn down most likely from biting the bars of a metal cage.
Within three months he needed serious back surgery due to injuries sustained earlier in his life. They thought he may have been kicked or abused. We carried him around for four months while he healed so he wouldn't have to be in a crate or cage. Surgery was a success and after months of rehabilitation, he learned to walk and run again!
He had no idea how to play. Toys meant nothing to him.
He was always hungry – he loved to eat!
We had eight wonderful and loving years with this little guy.
You can see why book four took on so much meaning for me. It's my way to both educate about puppy mills and honor Oscar's memory.
Oscar survived the hardships of the puppy mill and being abandoned. During our time together he taught us about patience, love and the power of never giving up. He was our mentor and teacher. You may want to stop by my Facebook author page were I regularly post The Wisdom of Oscar. I share some of the many lessons we learned from our smart little doxie.
Thank you for reading the Oscar the Doxie Detective cozy mystery series. And, thank you to everyone who took time to leave reviews. Please know how much I appreciate you!




© Copyright 2018 SharonMichaels.com – All Rights Reserved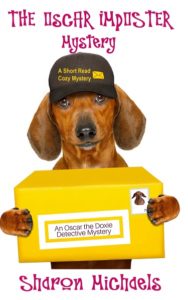 Here's a link to the Paperback Book 4 –
The Oscar Imposter Mystery in Paperback
Here's a link to the Kindle Book 4 –
The Oscar Imposter Mystery on Kindle

I invite you to stop by and check out all the books in An Oscar the Doxie Detective Mystery Series An Oscar the Doxie Detective Series