My name is Sophie and I'm a friend of Oscar the mini-dachshund. We live down the street from one another in a quiet retirement community called Happy Hills located in southern Arizona.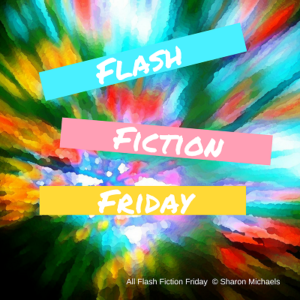 I wasn't always a dog. Many years ago I was a human before I somehow turned up in this sleek body they call a Greyhound. I'm not just any dog, I'm an affectionate, athletic, gentle, intelligent, quiet and even tempered greyhound. Now that I think about it, it is uncanny how these traits so closely parallel my past human traits.
Something strange is beginning to happen. Almost every night I have flashbacks about my human life, the life I lived before I became a long-legged racing dog. Sounds crazy, doesn't it?
Believe it or not, the flash backs have to do with me being too smart. Really, why would I be concerned with being too smart as a human when I'm now a dog?
For some reason I'm reliving things I heard growing up as a girl in New York City. I was ridiculed for being too smart – I'm talking genius smart – over the top numbers on my I.Q. tests. I could read a book and remember it word-for-word. I started college when I was twelve years old. I was the youngest person to ever pass the bar exam and became a lawyer at age eighteen. I'm talking really, really smart!
Here are some of the things I heard: You're too smart for your own good. Men don't like smart women. People will think you're too big for your britches. Don't be a smarty pants. Yep, that's what I heard – mostly from my helpful relatives.
You know what? All those negative remarks made me stronger. At first the words hurt, then I had an "aha." I was going to use my brains to help others.
From the time I was eighteen and newly admitted to the bar, until I turned twenty-two I worked in a legal aid clinic. I was a public defender and helped those people who couldn't afford to hire an attorney to get good legal help. Those years were some of the best years of my human life. I used my smarts to help empower women to go for their dreams, supported children in getting a good education and made sure families had a safe place to live.
People started calling me a do-gooder. I didn't care. I never allowed words to chip away at my self-esteem. I never doubted my purpose. I never doubted myself. I knew in my heart of hearts that I was put on this earth to use my intelligence to make a positive difference in the world.
When the Manhattan District Attorney's office reached out to me on my twenty second birthday and offered me a job, I couldn't say no. Working to serve the citizens of New York City as an Assistant District Attorney was a dream come true.
I started out in the trial division helping more experienced lawyers prepare criminal cases for court. Within a few months, I was promoted to trying cases on my own. Not only did I try the cases – I got convictions. In my five years with the DA's office, I had an unbeatable record for securing convictions. To say the least, I was able to send many bad guys away for a very long time. I was unstoppable in my dedication to making sure justice was served.
Here's the downside to all that: My unbeatable record put a target on my back. Not only were defense attorneys aiming to spoil my long standing record for securing convictions, but the criminal element wanted to see me gone. When I say gone, I mean there were several underworld figures who placed hits on me. I literally was a walking target. My boss made sure I had a bodyguard going to and from court. I had a driver who picked me up in the morning and drove me home at night. I was a serious threat to the criminal elements of New York City.
Being the smarty pants that I was, I never thought I needed protection. I was more than capable of taking care of myself. I knew how to shoot a gun. I'd taken self-defense classes. I carried a stun gun. I thought I was untouchable. In the end I was too smart for my own good.
One snowy January night about eleven o'clock I decided I needed cottage cheese for my next day's lunch. The grocery store was just down the street and open all night. I bundled up in a heavy down-filled coat, wool cap, mittens and my favorite clunky old snow boots. I decided not to take a purse. I just needed a few dollars to make my purchase and I didn't want to be weighed down trying to walk on the snowy, icy sidewalks.
I should have realized something was off when my porch light wasn't on. I figured it was a burned out bulb. As I started down the steps I heard a rumbling sound to my right. Out of nowhere came a snowmobile. I stepped off the last step and put my right foot on sidewalk when I saw a flash of light and heard a muffled noise that sounded like a bang. That's when I felt the pain in my chest and saw blood oozing through my coat. I remember sliding to the ground. I had an out of body experience as I watched a man shoot me again and again. He stood over me for a few seconds and then got back on the snowmobile and drove away.
Do I have any regrets? Some. I wish I'd had more time to complete my work on earth. I know I could have made a difference in the lives of so many more people. You never know, I might have become the first female president of the United States.
Now as Sophie the greyhound, I'm content with life. Every day I wag my tail and thank my person Daniel for adopting me. I make it a priority to bring hope to the lives of the dogs I meet at the park and on the street. I'm a member of the Happy Hills Canine Detective Club and we're making a positive difference in our community. I guess you could say I'm still a smarty pants and proud of it!



Copyright © 2018 – SharonMichaels.com – All Rights Reserved
This is a work of fiction.
None of it is real. All names, characters, businesses, places, events and incidents are either the products of the author's imagination or used in a fictitious manner. Any resemblance to actual persons, living or dead, or actual events is purely coincidental.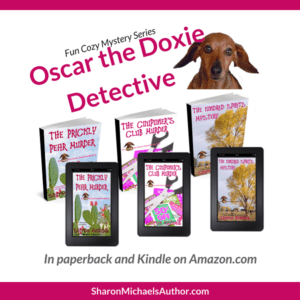 Come enjoy more of my fiction in the short fun light-hearted cozy mysteries you can probably read in an hour or so. Pour your favorite beverage, sit back and enjoy seeing the world through the eyes of Oscar the doxie detective. I'm guessing after reading this canine adventure, you'll realize your own dog knows a lot more than you think.
You can find an Oscar the Doxie Detective Mystery Series on Amazon.com – quick read fun paperback and Kindle cozy mysteries. An Oscar the Doxie Detective Mystery (3 Book Series)


Here is a link to all the Flash Fiction Friday stories. A new Flash Fiction story is published the third Friday of each month.