I'll confess, I only started reading cozy mysteries about two years ago. Sure, I watched Murder, She Wrote on television, but I was never "hooked" on mysteries the way I am now. I not only love writing them, I love reading them.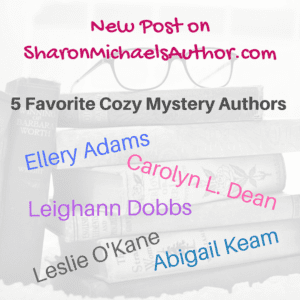 Looking through my collection of paperbacks and Kindles this morning, I realize I have certain favorite authors I've read most everything they have written. That's pretty much what I do, stick with an author I enjoy and read all their books. Do you do that too?
Here's a list of five favorite cozy mystery authors I've totally enjoyed reading:
1. Ellery Adams – especially the A Book by the Bay Series
New York Times bestselling author Ellery Adams grew up on a beach near the Long Island Sound. Having spent her adult life in a series of landlocked towns, she cherishes her memories of open water, violent storms, and the smell of the sea. She now writes full-time from her home in North Carolina, which she shares with her husband, two trolls, and three keyboard-hogging felines. Adams loves coffee, champagne, kickboxing, 1000-piece jigsaw puzzles, Pinterest, and black jelly beans.
Her traditionally published series include The Secret, Book, and Scone Society Mysteries, The Book Retreat Mysteries, The Books By the Bay Mysteries, and The Charmed Pie Shoppe Mysteries. Visit www.elleryadamsmysteries.com
2. Carolyn L. Dean – especially the A Ravenwood Cove Mystery Series
I've been writing and making stories in my head as early as I can remember. In third grade I came home, set my lunchbox down, and told my mother I wanted to be a writer. Luckily, Mom was supportive.
I've been a published author for a while now, under different names and genres, but the thought of writing about a small coastal town in Oregon, and about its loves and mysteries and holidays and people has been with me for years. To be honest, I am a bit scared to dump those ideas onto the written page, but hope you'll enjoy getting to meet the people who inhabit my imagination.
In real life, I'm married with kids, live on the West Coast of the US, and own a hobby farm just outside of my favorite small town. I love to travel, and can often be found strolling down a windy Oregon beach, holding onto the string of a high-sailing dragon kite. Carolyn's Website at http://CarolynDeanBooks.com
3. Leighann Dobbs – I have three favorite series…
The Lexy Baker Mystery Series
The Blackmoor Sisters Mystery Series
Moosamuck Island Cozy Mystery Series
USA Today bestselling author, Leighann Dobbs, discovered her passion for writing after a twenty year career as a software engineer. She lives in New Hampshire with her husband Bruce, their trusty Chihuahua mix Mojo and beautiful rescue cat, Kitty. When she's not reading, gardening, making jewelry or selling antiques, she likes to write cozy mystery and historical romance books.
Her book "Ghostly Paws" was the 2015 Chanticleer Mystery & Mayhem First Place category winner in the Animal Mystery category.
Don't miss out on the early buyers discount on Leighann's next cozy mystery – get a TEXT alert straight on your cellphone. For Cozy Mystery alerts, just text COZYMYSTERY to 88202
4.Abigail Keam – especially the A Josiah Reynolds Mystery
Abigail Keam is an Amazon best-selling and award-winning author who writes the Josiah Reynolds Mystery Series about a female beekeeper turned amateur sleuth. Josiah solves mysteries with her quirky friends in the Kentucky Bluegrass where fast horses, bourbon, and secrets abound. Like her heroine, Josiah, Miss Abigail adores chocolate, bourbon, chocolate with bourbon, horses, and honeybees.
Miss Abigail is also an award-winning beekeeper who has won 16 awards at the Kentucky State Fair including the Barbara Horn Award which is given to beekeepers who rate a perfect 100 in a honey competition. Like her protagonist, Josiah Reynolds, she was a professional beekeeper and sold honey at a local farmers' market for years.
She currently lives on the Kentucky River Palisades in a metal house with her husband and various critters. She still has honeybees.
Death by a Honeybee won the 2010 Gold Medal Award for Women's Lit from Reader's Favorite and was a Finalist of the USA BOOK NEWS-Best Books of 2011. Death by Drowning won the Reader's Favorite 2011 Gold Medal Award for Best Mystery Sleuth and also was placed on the USA BOOK NEWS-Best Books of 2011 as a Finalist.
You can visit her at https://www.abigailkeam.com
5. Leslie O'Kane – especially the Molly Masters Mysteries
Leslie O'Kane has written 28 novels, all of which have two things in common—they are laugh-out-loud funny, and at least one crime takes place in each book. Her all-time favorite review was Oline Cogdill's in the Ft. Lauderdale Sun-Sentinel who wrote: "Leslie O'Kane is certainly on her way to making her Molly Masters series the I Love Lucy of amateur sleuths." A member of two book clubs herself, Leslie gears her books for the lighter, optimistic side of women's groups. She writes lively, page-turning books that are quick, entertaining reads. Her books are described as somewhere between Where'd You Go, Bernadette? and The Thin Woman.
Maintaining a sense of humor is a mainstay of Leslie's life. Many years ago, when taken hostage in a robbery by an irate customer afterhours at the bar where she was head waitress, Leslie thought, "This guy is taking his having missed last call way too seriously." That made her laugh, which in turn made the robber strike her with his shotgun. The experience taught her that writing about crimes is much more fun than taking part in them.
Website: http://leslieokane.com/




Blog Coypright ©2017 – SharonMichaelsAuthor.com – All Rights Reserved
I invite you to stop by and check out my Author page on Amazon.com – learn more about all my Amazon books
Sharon Michaels Amazon.com Author page
Especially my
Oscar the Doxie Detective Mystery Series