The Kindred Spirits Mystery
This is book 3 in the Oscar the Doxie Detective Cozy Mystery Series.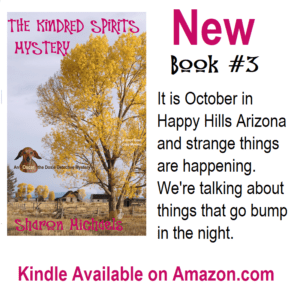 It is October in Happy Hills Arizona and strange things are happening. We're talking about things that go bump in the night.
Oscar and the Happy Hills Canine Detective Club work to solve a century old mystery involving a stagecoach robbery and a missing strongbox heavy with gold and silver. Oscar's patience is tested as he must rely on "spirits" to save his Sara from harm.
*Contains mild paranormal activities.*
A short fun light-hearted cozy mystery you can probably read in an hour or so. Pour your favorite beverage, power up your e-reader, sit back and enjoy seeing the world through the eyes of Oscar the doxie detective. I'm guessing after reading this canine adventure, you'll realize your own dog knows a lot more than you think.
P.S. From the Author: This is not a children's book. It is a fun, clean adult cozy mystery.
Here's a link to the Kindle on Amazon.com:
The Kindred Spirits Mystery