It was difficult choosing just one event that had a long lasting impact on my adult life. The one I'm sharing happened when I was probably ten or eleven years old. I recall it as vividly as if it was yesterday.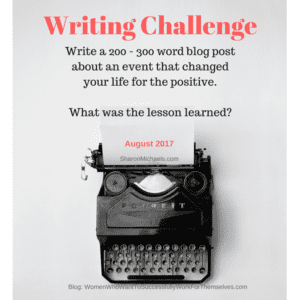 Two doors down from my childhood home lived my friend Mary. Mary's younger brother, who was about my age, had special needs – he was learning challenged. School was frustrating for him. His teachers were making little progress teaching him the ABC's. He'd start crying if you asked him to open a book or brought out paper and pencil. Something inside of me knew I had to help.
Twice a week we would play school. I would pretend to be a teacher and he was my student. At first he was apprehensive and then it became a fun game. Personally, I took our time together seriously. My goal was to help him gain not only basic educational skills, but greater self-confidence.
Within a month I'd taught him to write his ABC's. I was thrilled when his teacher sent a note home congratulating me on a job well done. How did this experience change my life? I knew from that moment on that my life's mission was to become a special education teacher. Yes, I did go to college and became a special education teacher. Even today I am still a teacher. I may not be in a classroom, but I believe I teach through my blogs, books, coaching and MasterMind programs. My basic personal and professional mission has never changed: Every morning I vow to make a positive difference in the lives of others.
What event in your life was so powerful that it changed your life forever?
A side note: I seriously think teaching is embedded in my DNA. I'm making it a goal, to search my ancestry to see how many educators there are in my family tree.
Please leave us your comments.





Sharon Michaels
Author, blogger and success teacher


© Copyright 2017 SharonMichaels.com – All Rights Reserved
Be sure to purchase your copy of Sharon's empowering paperback and Kindle book, How To Give Your the POWER to Succeed on Amazon.com – Recognizing the things you're doing that may be keeping you from the things you want.

I'm Sharon Michaels and I teach you how to do business successfully. http://SharonMichaels.com



I invite you to stop by and check out my Author page on Amazon.com – learn more about all my Amazon books Sharon Michaels Amazon.com Author page