My desire has always been to share the day-to-day and year-to-year struggles I've had with self-sabotage. For years I didn't understand why I seemed to yank the rug of success out from under myself. Then, it all became clear.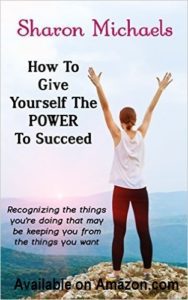 Around 1992 I started journaling what I was feeling and doing when I began undermining success. I gradually started to see tell-tale signs and patterns of negativity emerge. The more I became aware of my own self-sabotaging tendencies and the more I talked with other women, I realized I wasn't the only one yanking the rug of success out from under myself.
Why would anyone want to sabotage success and happiness? It's not like we deliberately set out to sabotage ourselves. Self-sabotage is something we do unconsciously. I dislike saying it, but self-sabotage becomes a habit – something we accept as a part of how we're living life.
In 1994 I sat down and wrote How to Give Yourself the POWER to Succeed based on my personal journey to overcome self-sabotage. In 1996 I published and started selling my book at workshops and speaking engagements. POWER was an instant success. So many woman came up to me to say, "I thought you were telling my story."
How To Give Yourself The Power To Succeed: Recognizing the things you're doing that may be keeping you from the things you want, is currently available on Amazon.com as a paperback and Kindle. POWER has been revised and expanded over the years, but there will always be a special place in my heart for my first book.
Here's a direct link to Amazon.com and your copy of How to Give Yourself the POWER to Succeed



© Copyright 2017 SharonMichaels.com – All Rights Reserved

I invite you to stop by and check out my Author page on Amazon.com – learn more about all my Amazon books Sharon Michaels Amazon.com Author page