My Name is Bella
Let me start from the beginning. I think it's the beginning – it's the place where I began remembering bits and pieces of my life.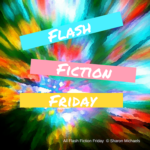 I know my name is Bella because I have a small heart tag on the collar around my neck. A nice lady stopped to pet me, looked at my collar and said, "You're a good girl Bella." She just kept walking. I started to follow her, but she didn't notice me.
Honestly, I don't know how I got here – wherever here is. The last thing I remember I was riding in a car with my human mom and dad and three rowdy two-legged brothers. There was a loud noise outside the car. The car started rolling and everything went dark. When I woke up I was wandering around the streets of a strange town.
I'm frightened, tired, and hungry. My right back leg hurts when I put my weight on it. I can't find my family. I've wandered up and down streets for hours. It's starting to rain. I'll hide under this wooden porch for a while and get some sleep until the rain passes. I hope my people find me soon because I miss them.
Is that sun in my eyes? I must have slept under this porch all night. Water is dripping on me from the wooden slats. My blonde and tan curly hair is tangled and covered in mud. I can't stop shivering. I have to get out of here, but where do I go?
My back leg won't move the way it used to. I have to drag it behind me. I can't remember the last time I ate. In fact, I don't remember much of anything. I crawl out from under the porch and start crying. I'm scared.
I hear a door open. I run back under the porch dragging my rear leg behind me. I'm not fast, but I don't want to get caught. I don't know if I can trust people.
"Hey little doggie, what are you doing under there?" croons a low raspy male voice. I see a tan wrinkled and weathered face staring down at me.
He seems like a nice man. He's older than my people. When he reaches out his big hand I back away, but I don't growl.
"Don't be afraid. I won't hurt you," he says, inching his hand closer to my face.
"My name is Wilbur and I live in this house. I was just going to start breakfast when I saw you sitting in my yard."
I think I can trust him and he did mention breakfast. I'm smelling eggs and bacon.
"Come on out and let's get you cleaned up and have a meal together. I could use the company."
I weigh my options and decide to trust Wilbur. What do I have to lose? I'm lost, hurt and hungry. I don't know if I'll ever see my people again. I decide to take a giant leap of faith. I slowly crawl out from under the wooden porch and into the warm arms of this gentle old man.
Wilbur carries me to the kitchen where he cleans my face and paws and wraps me in a soft warm blanket. I don't take my eyes off of him just in case I need to run and hide.
"You stay put little lady while I make you some breakfast and fetch a bowl of water."
I hear eggs and bacon sizzling. My mouth is watering. Wilbur places a shiny white bowl of fresh water in front of me and I drink like I haven't had water in days. Maybe it has been days, I don't remember.
"Here you go sweetie. Eat slowly so you don't get sick," he says, placing a plate of fluffy yellow scrambled eggs and bits of crisp brown bacon in front of me.
I believe I ate my meal in one gulp. Wilbur smiles and shakes his head.
"Well, either you were really hungry or I'm the world's best cook," Wilbur laughs, walking back to the stove.
I want more, but I know enough to be polite and not beg. I'll lay in this blanket and appreciate the breakfast Wilbur shared with me.
With breakfast finished and dishes washed, Wilbur sits on the floor next to me. He starts rubbing my ears. That feels good. I instinctively begin to relax.
"Let's see what your collar says and maybe we can find your people." He begins to loosen my collar.
"What a sweet name. Well Bella, welcome to my humble home."
I lick his hand in reply.
"I'm sad to say I don't see a phone number or address on your collar. I'll tell you what we'll do; my son Toby is the local vet and we'll pay him a visit to see if you have a microchip. I want him to look at your leg too."
All I can do is cuddle closer to this kind man and lick his hand. My heart is filled with gratitude and hope.
To make a long story short, I wasn't microchipped. We tried to find my people but couldn't. Wilbur is now my forever person. Wilbur's son Doctor Toby fixed my bum leg and I'm running and playing again without pain. Today I am a lucky pampered pooch living a content life. Everyday Wilbur tells me I came into his life for a reason. He tells me he was a lonely man who now has a purpose. I was a scared lonely dog who can make an elderly gentleman happy. I believe Wilbur saved my life and I'm pretty sure I saved his too. Don't you love happy endings?
Please take a minute and share your thoughts with us.
***This is a work of fiction.***
None of it is real. All names, characters, businesses, places, events and incidents are either the products of the author's imagination or used in a fictitious manner. Any resemblance to actual persons, living or dead, or actual events is purely coincidental.
Thank you for reading this post,




© Copyright 2017 SharonMichaels.com – All Rights Reserved
Be sure to purchase your paperback and Kindle copy of my first cozy mystery staring Oscar the Doxie Detective, The Prickly Pear Murder on Amazon.com
Bella is a character in the Oscar the Doxie Detective series of cozy mysteries.
Review: 5.0 out of 5 stars – Great Read!!
By Marilyn
"I loved the storyline, murder mystery plot and humor throughout the book. Looking forward to many more Oscar The Doxie Detective mysteries."
I invite you to stop by and check out my Author page on Amazon.com – learn more about all my Amazon books Sharon Michaels Amazon.com Author page

Here is a link to all the Flash Fiction Friday stories. A new Flash Fiction story is published the third Friday of each month.