I was asked last week how I chose to write and publish my first fiction series about a dachshund who solves mysteries. Honestly, it just happened. I woke up one morning with an idea for a fun story about a group of neighborhood dogs who band together to solve crime. I didn't know where the story concept would lead, but the more I thought about the storyline the more I liked the idea.
The Doxie the Detective series is based on our mini-dachshund Oscar. When we adopted Oscar his rescuers believed he'd probably been used as a stud in a puppy mill. It took a while for him to trust us and understand we were his forever home. He didn't know how to play with toys. He didn't know how to sleep in a comfortable dog bed. He gulped his food like he might not get another meal. During the eight wonderful years he blessed our lives, my husband and I cherished every moment we had with him.
As I write the Oscar the Doxie Detective series I clearly picture each of the endearing qualities that made Oscar unique and special. Writing this cozy mystery series is my way of honoring Oscar's memory and helping you to get to know why we loved him so much.
Over those eight years we learned many life lessons from Oscar. I've been sharing some of those lessons in what I'm calling my "Doxie Wisdom." You'll find them posted on my Sharon Michaels Author Facebook page.
I also made a YouTube video a couple of years before Oscar crossed the rainbow bridge explaining how he became our mentor. Here's a link to that video: Meet My Mentor – Oscar



© Copyright 2017 SharonMichaels.com – All Rights Reserved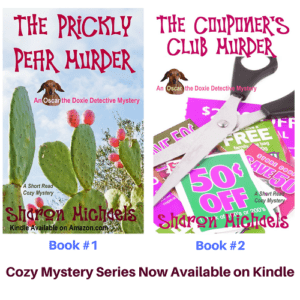 Short fun light-hearted cozy mysteries you can probably read in an hour or so. Pour your favorite beverage, power up your e-reader, sit back and enjoy seeing the world through the eyes of Oscar the doxie detective. I'm guessing after reading this canine adventure, you'll realize your own dog knows a lot more than you think.
The main mystery is solved in each book. You will enjoy the stories more if you read the books in order as some story lines thread from book to book.
Here's a link to the series: The Oscar the Doxie Detective Mystery Series
Review: 5.0 out of 5 stars – Great Read!
By Marilyn
"I loved the story line, murder mystery plot and humor throughout the book.
Looking forward to many more Oscar The Doxie mysteries."


I invite you to stop by and check out my Author page on Amazon.com – learn more about all my Amazon books Sharon Michaels Amazon.com Author page