For as long as I can remember, my mission as an author, blogger and coach has been to share empowering personal and professional success strategies. I strive to provide the how-to's that will keep us going forward in positive and productive ways.
As an author of fiction, I have four cozy mystery books in an Oscar the Doxie Detective Mystery series AND ten sweet romance short read novels AND the new woman's contemporary/ historical fiction series Hat with Nine Lives all available on Amazon. Most of the books you can read in an hour to ninety minutes. Here's a complete list on my Amazon Author page: amazon.com/author/sharonmichaels
*****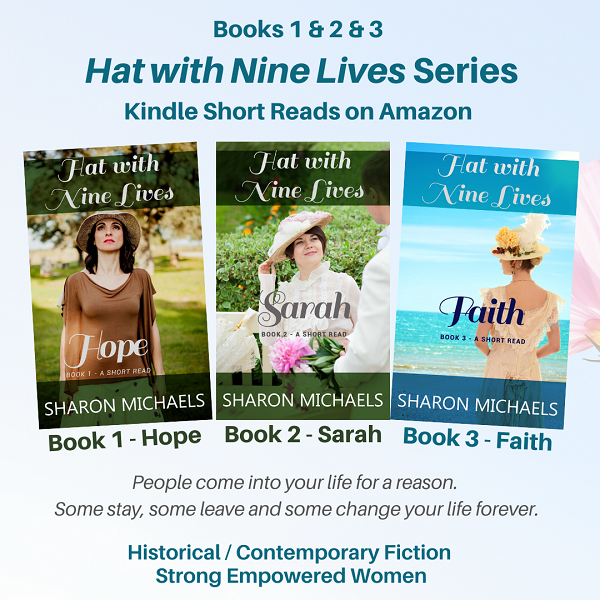 Excited to share the first three books in the Hat with Nine Lives Series
Here are the links to grab your Kindle/Kindle Unlimited copies:
Hat with Nine Lives – Books 1 Hope – Book 2 Sarah – Book 3 Faith:
https://www.amazon.com/gp/product/B084MHD5YD
Hat with Nine Lives – Book 1 – Hope:
https://www.amazon.com/dp/B083ZP58CL
Real life is not like a romance novel!
Yep, I learned that lesson two years ago when my whole romantic fantasy life blew up in my face like a bad dream. Well it didn't actually blow up, it fell apart into a thousand pieces when I realized my marriage hadn't been a real marriage at all. I'll get into that a little later.
I admit it, I was a romantic fool who was duped into believing there could be a fairy tale happily ever after. If I sound bitter and cynical, it is because I am. To make matters worse, I had to run home to the small town in Nebraska where I was born and face the people who believed in me most. I had to tell them I failed. Talk about humiliation.
You're probably wondering what any of this has to do with a hat. The story I am about to share isn't just about an old hat. It's about a very special hat, one with nine amazing lives. My journey started one sunny spring Saturday morning…
Hat with Nine Lives – Book 2 – Sarah
https://www.amazon.com/gp/product/B084KYJKFS
One antique hat, two women living in different centuries, sharing the same struggles.
In 1901 shy Sarah Beauregard is fed up with living under the thumb of a domineering mother-in-law and spineless husband. She's tired of not having a voice. When fate steps in, she must decide if it is time to stand up and do what's in her heart.
Our time traveling modern day storyteller Hope McConnell is sick and tired of her ex-husband undermining her legal career and chipping away at her self-confidence. She must decide if it is time to stop living in the shadow of others and do what's right for her.
In this book, Hope's time traveling dreams take her to meet the first owner of her beautiful antique hat. Here she experiences the changing world through the eyes of Sarah Beauregard.
Hat with Nine Lives – Book 3 – Faith
https://www.amazon.com/gp/product/B085X6JZ5Y
People come into your life for a reason. Some stay, some leave and some change your life forever.
Faith Coffey traveled to the United States to marry the man of her dreams. Her life though did not turn out quite the way she planned. In a new country and knowing no one, she must search to find her place, her passion and her courage to keep believing in the future.
Our time traveling modern day storyteller Hope McConnell is about to open the Crystal Falls Legal Aid Clinic when self-doubt takes hold. This is a turning point in her life and her career. For Hope, the Nannette LaPointe antique hat always seems to know just the right lesson she needs to learn about herself.
Two adventurous women, living in two different centuries, but sharing the same struggles must decide if they have the courage to go where their heart is leading them.
Happy Reading!!!
Thank you for the reviews, they are appreciated.
~Sharon
**Even if you don't have a Kindle, Amazon has a free app for your mobile device and/or computer. You can start reading Kindle books on your smartphone, tablet, or computer – no Kindle device required.**
~~~~~~~~~~~~~~~~~~~~~~~~~~~~~~~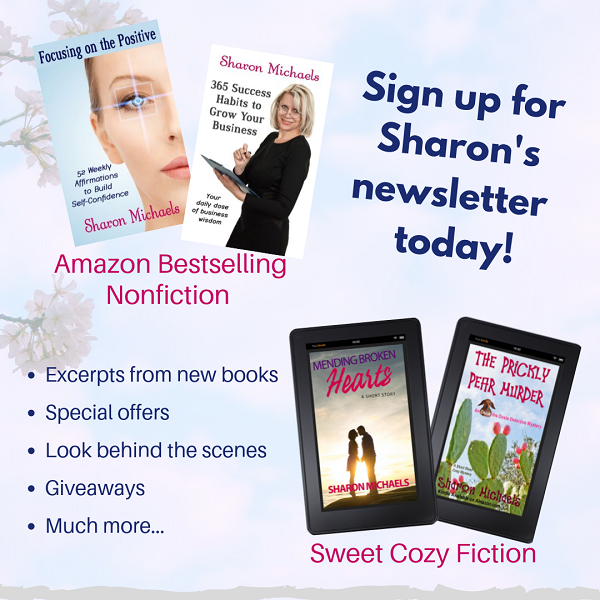 Privacy Policy |
Terms of Use |
12995 N Oracle Rd., Ste. 141 Tucson, Arizona 85739